-// Navigation


About 2 Sexy Guys
Pics
Links
Media and Stuff
Contact
Credits
Home
---



-//April 2005





Saturday 04.30.05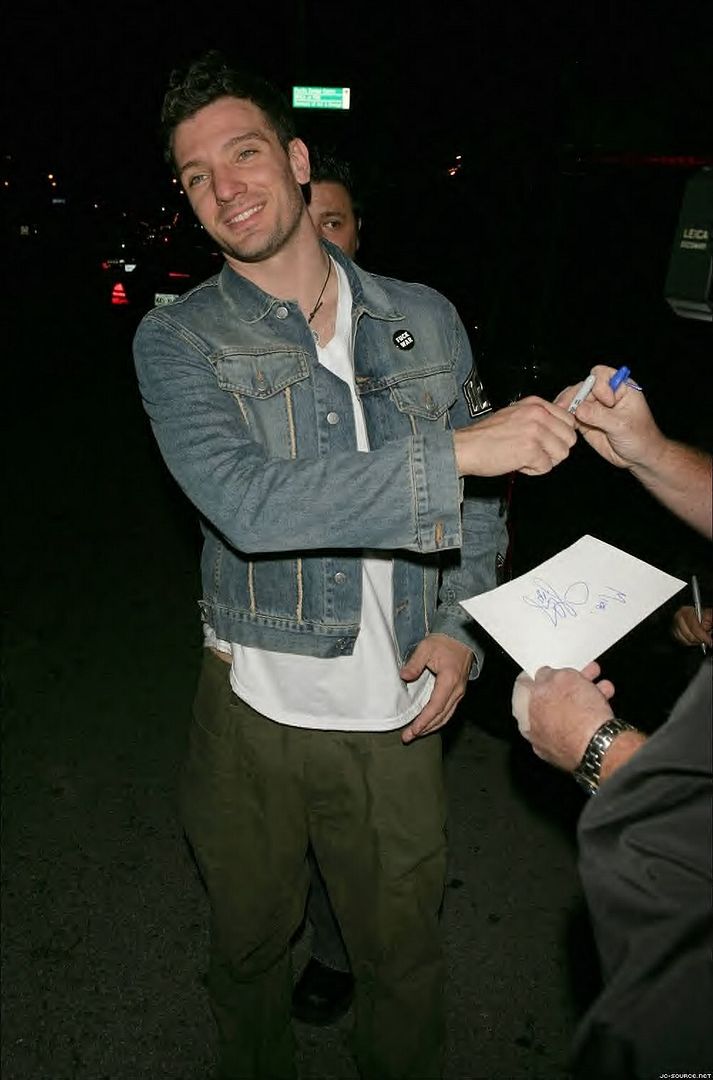 Added a photo in the News Photos from JC at Taylor Cole's (from TV show "Summerland") 21st birthday party at club Prey in Los Angeles. April 28, 2005. Credit goes to Jc-Source.net
I also added a picture to Jcs photos. It's called Makin' Love you'll know it when you see it believe me. YUMMY!!
Thursday 04.28.05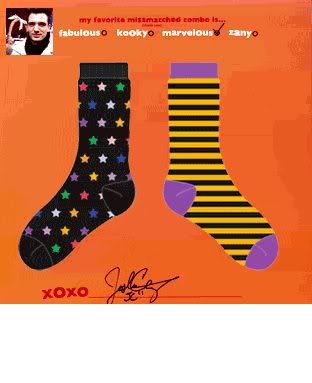 MisMatched Celebrity Socks Auction
Credit:Susie BuildMyWorldOnNsync Yahoo Group
Cartoon spokesgirl, LittleMissMatched, went to Hollywood on a mission: to raise money for kids with cancer and other terminal illnesses. On the road, she met many missmatched friends: Liv Tyler, Britney Spears Federline, Julianne Moore, Lindsay Lohan, Courteney Cox Arquette, Mischa Barton, Teri Hatcher, JC Chasez, Jamie-Lynn DiScala, Fran Drescher, Ivanka Trump, Mariska Hargitay, Robert Verdi, Annasophia Robb, Ana Gasteyer, Katie Couric, Soledad O'Brien, Suze Orman, Rebecca Gayheart, Ciara. To help with her cause, LittleMissMatched asked her new celebrity pals to pick their favorite Kooky, Zany, Fabulous, Marvelous, sock combinations from her line.
LittleMissMatched, the company known for selling missmatched socks in odd numbers, has proudly partnered with the Ronald McDonald House Charities. On Monday, May 2, at 5:00pm (EDT), LittleMissMatched will auction off these autographed celebrity sock combos on eBay, donating 100% of proceeds to benefit this well known cause for children and families in need. Preview your favorite celebrity's missmatched sock combination and place your bid by visiting www.littlemissmatched.com
Wednesday 04.27.05
Paris Gets Cred
Credit:Much Music
New York's coolest feminist rockers are co-writing and producing a track for Paris Hilton's upcoming debut album. A more likely collaborator, Lil Jon, has contributed a track called "That's Hot," and Paris also plans to team up with the Black Eyed Peas to write a song. The album, tentatively called Screwed, reportedly also features two songs by JC Chasez.
Tuesday 04.26.05
Credit:Somewhere Waiting on the JJB and my friend Meg
Lance is in the May 9 issue of Country Weekly magazine in the feature called 'I Love My Country' on page 60.
He's a member of pop band *NSYNC, but Lance Bass grew up loving country music. 'Country music makes you feel good,' he says, 'it's something I was raised with.'
The Clinton, Miss., native names Garth Brooks and Reba McEntire as early influences. 'I remember when Reba played in Jackson,' he says. 'She had a newcomer named Faith Hill opening up for her. Linda Davis sang 'Does He Love You' with Reba, and I also remember it was Linda's birthday, too. It was a very memorable night. It was the first concert I went to that had theatrics. Reba really performed. That was one of the first concerts I went to that I said to myself, 'Wow, I'd like to do that!''
Lance also lists other country faves - George Strait and Alison Krauss & Union Station. 'The CD I'm listening to right now is Keith Urban's new one,' he adds.
"Lance Bass' 5 Favorites"
Keith Urban - Be Here
"You listen to it, and sometimes you forget that it is true country music. It mixes a lot of sounds."
George Strait - 50 Number Ones
"I just love George Strait, and I can't pick one particular album-so the '50 Number Ones' puts everything into one."
Alison Krauss & Union Station - Now That I've Found You
"I love Alison's voice. It's completely different from anything else. It just makes me happy. And I love how Union Station plays."
Garth Brooks - No Fences
"'The Thunder Rolls' and 'Friends In Low Places' are on that one, and some other crazy, awesome hits."
Garth Brooks - Garth Brooks
"'The Dance' is on there, and 'If Tomorrow Never Comes.' Great classics!"
Monday 04.25.05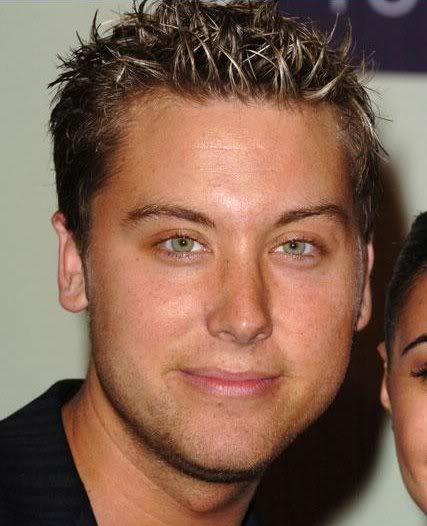 Race To Erase MS
Just added my own link to NSync Pleasure go to Menu click on links and it'll be under Lance i wasn't sure where to put it or that it would put the link up right away,so in the Links area under I've Been Linked is NSync Pleasure
I just added 3 pictures into Jcs Pics and also 7 pictures into Jc and Lances pictures sections.
Also into the media area a new animation.
I also added the credit for the photos and animation in credits area.
I added a wallpaper that i had made to the wallpapers section.
If you see a similiar wallpaper on jc-2.net that's because i made one for her originally but changed the wording for my own site.
Also you'll notice a counter on the main page.
This is a countdown to Lances Birthday.
Credit and thanks to my friend Meg for the recent photos of Lance Bass and friend and fellow On The Line Co-Star Emanuelle Chriqui who attended the Fight To Erase MS.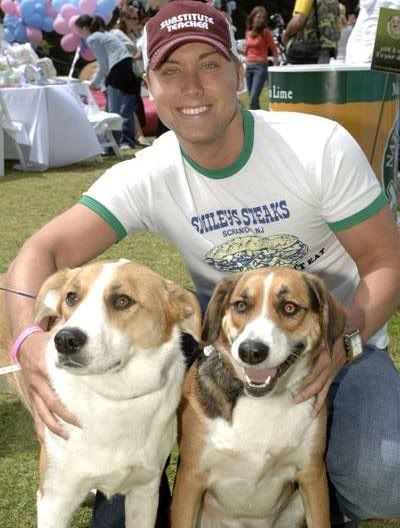 Hollywood Silver Spoons Buffet For Dogs and Babies
Also thanks to Meg for the photos of Lance who recently attended the Hollywood Silver Spoons Buffet for Dogs and Babies with his dogs Foster and Dingo.
If you'd like to see photos from both events just go to the photos section and click on the new section i added called News Photos.
Here is a background of what was in store for the pups.
An outdoor bar serving complimentary Chivas Regal cocktails in baby bottles is still not de rigueur for most Los Angeles pet events, but it was the first thing greeting visitors to the recent Silver Spoon Dog and Baby Buffet held on the Beverly Hills grounds of an old Douglas Fairbanks estate. Celebrities and commoners drifted through arbors festooned with stuffed pooches before ambling down a fairway bordered with display booths, wine stations and beanbag furniture for the fatigued. Many were young women with tiny dogs — actress Hilary Duff and her Chihuahua, Chiquita, or reality-TV spawn Nicole Richie and her Shih Tzu, Honey. By contrast, Robert Wagner, Jill St. John and their massive German shepard, Larry, were interviewed by animal psychic Sonia Fitzpatrick, while Jason Priestley was seen hoisting his bulldoggish chum, Swifty Lugnuts.
Pet pampering was the theme of the two-day fund-raiser for the no-kill Much Love Animal Rescue. Businesses offered "interpretive pet portraits," dog sweaters, custom-made pet beds and nightstands, canine gourmet treats and breath fresheners; 5-gallon bottles filled with water and lemon slices, and connected to bowls, awaited thirsty dogs. It was the kind of event that defines "conspicuous consumption."
Saturday 04.23.05
If you all head over to wireimage.com and type in Lance Bass you will find new pictures that were taken yesterday at the 12th Annual Race to Erase MS co-chaired by Tommy Hilfiger and Nancy Davis.
Lance however was not alone.
Some photos include friend and On The Line Co-Star Emmanuelle Chrique and even a photo with Jamie-Lynn Discala.
I do not have a wireimage account therefore i cannot get any photos right now but if i come across any i will post them.
Friday 04.22.05
Okay i'm sure by now at this hour you've seen the photos of Jc recently spotted at a gas station pumping gas into his mercedes.
Whether it be via a yahoo group, a messageboard,jc-source.net or however.
Anyways i can't blame Jc for looking so pissed off.
I would be too if i had paparazzi after me from restaurants to pumping gas.
So i took my favorite picture of the whole set and this is what i think Jc is telling those people.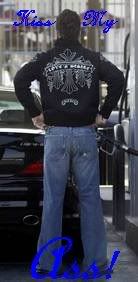 Thursday 04.21.05
I added another link in the links section.
My friend Rosa made a Jc website and it looks promising.
So check out Jc-2.net.
Jc Album News
Credit:Mtv.com
Along with working with the same producers he used on Schizophrenic, JC Chasez has been spending time in the studio with James Harry (Britney Spears) and David Maurice (Jay-Z) for the follow-up. "I'm concentrated not so much on the production but the songwriting, so it's gonna be an album of great songs," Chasez said.
25 Years Making Dreams Come True
NEW YORK, April 19 /PRNewswire/ --
"Beauty Shop" star Paige Hurd, "America's Next Top Model" judge Nigel Barker, World Wrestling Entertainment(R) Superstars Maven(TM) and Rosey(TM)*, and celebrity fashion designer Indashio were among the celebrities who gave new meaning to "star treatment" today. They joined representatives from the Make-A-Wish Foundation of America (MAW) at a star-studded event at Madame Tussauds in New York City to help kick off the national wish-granting organization's 25th Anniversary celebration.
Adding even more sparkle to the Foundation's star, Paige, the WWE and officials from NASCAR, unveiled signature "WishStars," an exciting star- themed, fund-raising art project specially designed to commemorate the organization's 25th Anniversary. With only the stars as their limit, these celebrities, as well as a host of others, captured the hope, joy and imagination of the Make-A-Wish Foundation by personally designing and autographing star-shaped artwork that will be included in an online auction to benefit the organization. Forged in silver metal, the 29"x 29" original pieces trumpet MAW's inspiring silver anniversary message in simple elegance - combined with a touch of whimsy - reflecting the artists' individual personality and attitude.
The list of celebrities who have lent their artistic talents to the "WishStar" art project is a "who's who" list in Hollywood and sports and music arenas: - Courteney Cox & David Arquette - Lance Bass - Kate Bosworth - Jamie-Lynn DiScala - Jeff Gordon - Jimmie Johnson - Teri Hatcher - Eva Longoria - Kid Rock - Robin Leach - Nancy O'Dell - Jeff Probst - Regina King - Paige Hurd - World Wrestling Entertainment - Selma Blair & Ahmet Zappa
The "WishStar" project also includes a special star featuring Mickey Mouse that was provided by DisneyHand, worldwide outreach for The Walt Disney Company. The item is sure to become a highly sought after collector's item. This, and all the celebrity "WishStars" will be included in an online auction in September 2005 to benefit MAW. Details on the auction will be available in the coming weeks.
Other celebrities on hand to support their colleagues' efforts included "Soul Plane" and "Chain Reaction" star Godfrey Danchimah, comedian/actor Victor Varnado ("The Adventures of Pluto Nash"), and SA Entertainment recording artist Troy Johnson, who provided a special performance.
David Williams, president and CEO of the Make-A-Wish Foundation, praised the commitment of the celebrity community. "We're tremendously grateful for the outpouring of celebrity support provided today," said Williams. "Their presence is a wonderful reflection of the ongoing efforts that so many actors, athletes, performing artists and other celebrities provide every day for the children we serve, creating memories that these kids cherish for a lifetime."
Williams also welcomed and highlighted the activities of corporate sponsors Things Remembered, Cold Stone Creamery, DisneyHand, La Petite Academy and Ali Spizman, MAW national teen volunteer ambassador, along with MAW children and their families.
"Each of these wonderful partners has devised unique and wonderful means by which the public can join us in our anniversary celebration," said Williams. "Through their Anniversary consumer promotions and many other projects that support our mission, the Make-A-Wish Foundation will be well on its way toward granting more than 12,000 wishes nationwide in the coming year alone."
To learn more about the corporate partners' MAW 25th anniversary programs, visit the Foundation's Web site at http://www.wish.org .
The Make-A-Wish Foundation(R) grants the wishes of children with life- threatening medical conditions to enrich the human experience with hope, strength, and joy. Born in 1980 when a group of caring individuals helped a young boy fulfill his dream of becoming a police officer, the Foundation is now the largest wish-granting charity in the world, with 74 chapters in the U.S. and its territories and 28 international affiliates on five continents. Granting more than 11,500 wishes a year and 127,000 wishes worldwide since inception, the Make-A-Wish Foundation celebrates "25 Years of Making Dreams Come True" in 2005. For more information about the Make-A-Wish Foundation, visit http://www.wish.org .
* Trademarks: The names of all World Wrestling Entertainment televised and live programming, talent names, images, likenesses, slogans and wrestling moves and all World Wrestling Entertainment logos are trademarks which are the exclusive property of World Wrestling Entertainment, Inc. All other trademarks are the property of their respective owners.
SOURCE Make-A-Wish Foundation 25th Anniversary
Web Site: http://www.wish.org
Monday 04.18.05
Since i now have a website which is something that i've always wanted.
I felt that it was time to share something special with all of you.
If you go into the media section at the bottom of the page,you will see two songvideos.
The first is a Jc song video that was made by someone named Mira.
I dont remember where i got it but i felt it needed to be shared.
It's pretty awesome and the video is to the tune of Prince's "Get Off" The other song video is a song video that i have made myself a while back.
It is my first songvideo i ever made.
It's a video of Lance Bass and the song i chose is a song i loved back when i was a teenager and i feel the song really suits him.
The song to the video is Debbie Gibson's "Lost In Your Eyes".
Now i have uploaded the files to YouSendIt.com so you only have 7 days to view these videos so i'd say you have til Saturday MAYBE Sunday but i'm not sure.
So Enjoy and pop me a message on the tagboard or an email and lemme know what you think!
Another name has been added to the I've Been Linked Links section.
Great big thanks to amazinglance.com.
Also below is an article apparantly Lance was at the Shining Star Ball.
Shining Star Ball Credit: Sun Herald The stars were shining bright for the Boys & Girls Club benefit ball April 9 at the Grand Casino Biloxi Bayview Resort. The fourth annual black-tie fund-raising event attended by 200 guests was expected to raise more than $90,000 over the course of the evening, according to organizer Jaye Brice and director of development Sam Burke... ...The theme of the evening was "Celebrate Mississippi." In keeping with the theme, the carefully prepared menu featured such homegrown delicacies as Mississippi cheese, Elvis Presley wine, Biloxi seafood cocktail, BBQ filet, and bronzed catfish. Dessert was Mississippi Mud Cake, of course, served with Delta strawberries and moonshine syrup. Among the focal points of the evening were the Gail Pittman plates featured in the silent auction. The plates were specially created for this event, and autographed by some of our most famous Mississippi natives. Signing the plates were Morgan Freeman, Robin Roberts, LANCE BASS, the members of 3 Doors Down, Steve McNair, Brett Favre, and even canine celebrity Benji (who imprinted his paw print). Archie Manning sent an IOU to meet with the winner and sign his plate in person when he comes to town for his charity golf tournament.
Friday 04.15.05
Added a Lance photo in Lances picture section. Photo is called Mesmerizing Eyes just in case you go hunting for it. Thanks and credited to my friend Meg.
Thursday 04.14.05
I've been affiliated. YAY!! Not sure what it's all about so i thought i'd start a new section and well XTina Diva UK is my first affiliate. Thanks for recognizing me. Also, i have made another section under the Links called I've Been Linked. This is where i will list sites and such that have linked me to their site and i shall link them in exchane and first on my list is All For NSync. Thank you so very much.
Wednesday 04.13.05
Jc Attends Details Magazine Party
Credit:Reuters
Singer JC Chasez poses as he arrives as a guest at the Details Magazine party celebrating the magazine's April issue honoring the Next Big Things, stars on the rise, in Hollywood, California April 12, 2005.
Tuesday 04.12.05
JC Album News
Credit: Tummy @
MusicFreedom.com
Message Board:
Hey there MFers - Long time no talk! So I had the privilege of spending the afternoon with your #1 guy yesterday. I heard more songs - I know you are all refraining from calling me every bad word in the book right now - hee hee Anyway - everyone song that I hear is more amazing. That kid is so freakin talented!! I told him ya'all were getting ancy and wanted to know WHEN IS THE ALBUM COMING OUT!! He said he's about 1/2 finished. I wish I had more to tell you but that's all!! You know that as soon as I know - - -you know! See ya later peeps TummyMF
Lance Spotted At Ashlee Simpson Concert
Credit: UCFJenn2000 from the JJB:
I just got back from the Ashlee Simpson concert in Orlando and saw Lance sitting up in the balcony with 2 guys and 2 blonde chics drinking and enjoying the show. I didn't see Chris with my own eyes, but I saw his entire crew (Mom, "Big Red", and friends) there and heard them say they were meeting him somewhere. Lance looked AMAZING!!
JC appearance on
MTV's
Damage Control -
Sunday 04.17.05, 09:30PM EST